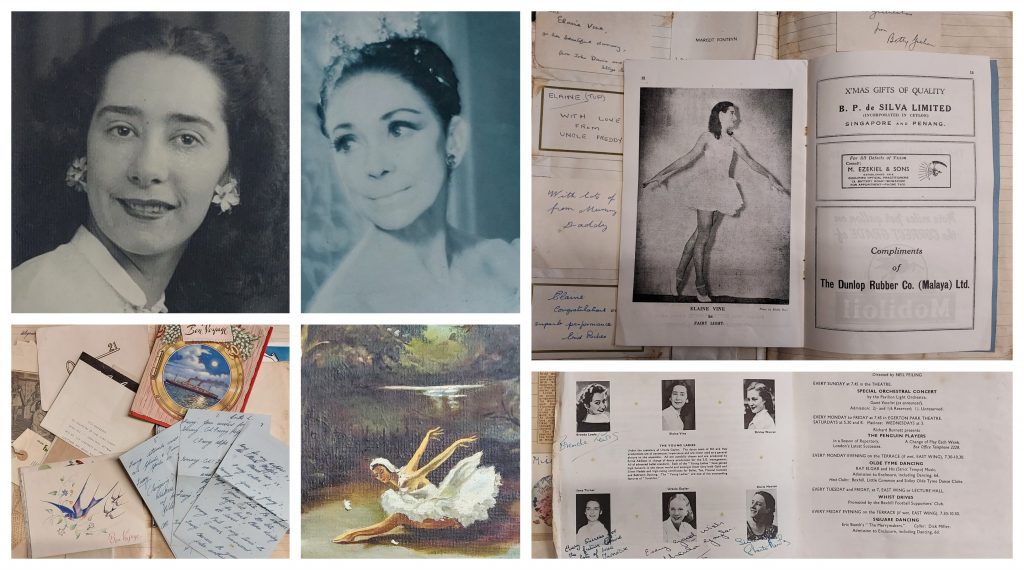 This fascinating collection of memorabilia references the life of Elaine Vine – Ballet dancer, choreographer and Principal of the Red Shoes Ballet School, Singapore. This exciting and highly documented information is to be sold as one exceptionally large LOT at our New Year's Auction, which will be of interest to collectors of dance, ballet, stage, and performance memorabilia.
At the early age of fifteen, Singapore-born Elaine Vine travelled to England to study ballet and dance at the Royal Academy of Dancing, London. She then continued her studies at The Imperial Society of Teachers of Dancing Incorporated qualifying as a teacher of Dance. During her time in England, she appeared in many theatrical and dance productions often in the role as Principal Dancer. She appeared in television shows and performances, as documented in her diaries. Along with her ballet training, her repertoire also included Modern American Dancing, Greek and National Dancing and Stage Dancing.
Six years later she returned to Singapore to continue her career as a dancer. Throughout her dance career she appeared in many national and international productions. Along with her solo dance career, in 1957 she established 'the Red Shoes Ballet School', Singapore, where as Principal she 'trained local youngsters in her graceful art'. The ballet school was an enormous success, as documented along with Miss Vine's career history in this fantastic collection of memorabilia.
Miss Vine, had an incredible interesting life, as documented in her diaries, scrapbooks and memorabilia that forms a unique reference of her life. Items include reports during her years as a student from the Royal Academy of Dancing, London, and The Imperial Society of Teachers of Dancing Incorporated, postcards, photographs, an autograph book, business cards including one from Margot Fonteyn 'Congratulations to a fellow artist', plus lots of autographs of dancers and theatrical names from the 1950s, congratulatory cards, invitations to parties and other events, telegrams, dance and work contracts, newspaper cuttings, artwork of the Dancer, brochures, dance shoes, many photographs, and theatrical and ballet programmes, and much more, which all make fascinating reading.
This exceptionally large and comprehensive collection is unique in content and forms a remarkably interesting collection documenting the life of the prolific dancer – Elaine Vine