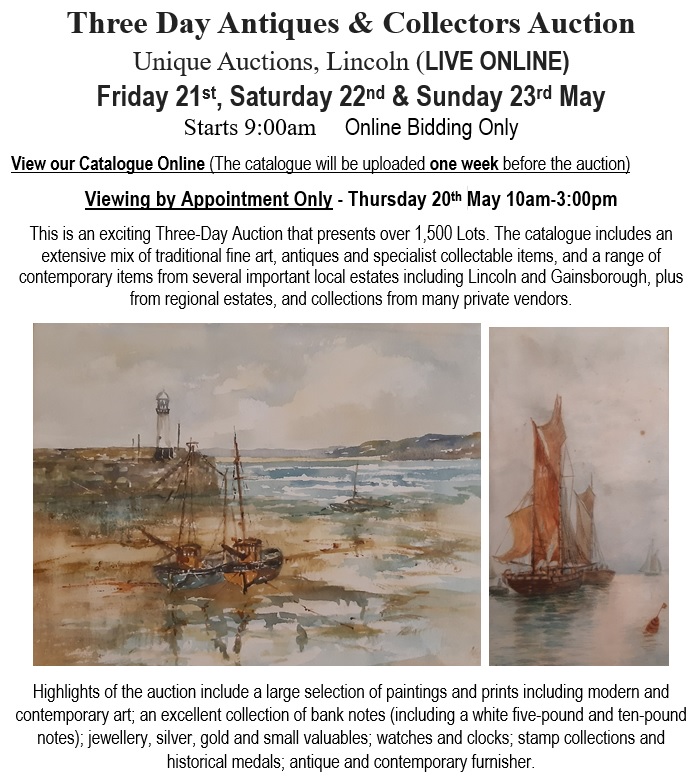 Viewing Thursday 20th May 10am-3pm. Please call 01522 690444 to make an appointment.
We will also be operating a queueing system for those who have not booked.
To attend the auction please call 01522 69044 to book seats. Due to COVID attendance is possible but limited.
Please note there are still 500 lots to add and the complete catalogue will be completed by Monday 17th May.
Click to view Catalogues and  bid through the-saleroom (online commission 4.95%)
Click to bid through EasyLiveAuction (flat fee £3 or commission 3%)
Including stamps; postcards; pottery and porcelain; Antique furniture; gold, silver and jewellery; costume jewellery; Massive collection of books including Complete Works of Gandhi, Bruce Lee, Signed editions such as Pele and Eleonor Roosevelt etc; Goebel birds collection; Colour Box & Sherratt & Simpson cat collection; Paintings and Prints; Contents of a workshop and garage; a 1936 Rolls Royce Kestrel twin blade aircraft propeller; a WW2 Aircraft Bombsight; Victorian 3 piece salon suite inlaid with mother of peral and ormulu fittings; Caithness paperweights; Victorian Garden Terrarium; fine Victorian bookcase and secretaire; 3 .5 inch line Railway engine project; Dolls, Teddy Bears, Die-cast and Toys; Copperware and metal ware etc; an excellent collection of bank notes including white 5 pound notes and white 10 pound notes; vintage projectors; Royal Crown Derby Imari china & paperweights; a collection of Royal Doulton figurines; Mabel Lucie Attwell Shelley and Boo Boo items; Clarice Cliff; Art Deco figurines; grandfather clocks including fine 18th C example; clocks; white goods; Le Creuset set; many large lots suitable selling at car boot sales such as toys, baby clothes shoes glassware etc; stamps; postcards; coins and Sovereigns; Electric Double Base, Euphonium, Guitars; Chinese Furniture; Victorian & Period Chairs; vinyl records; leaded glass window panes; Royal Copenhagen plates; Mirrors; Glass and Stoneware bottles; Penguin ornament collection; Sewing machines; Coalport & Minton porcelain; fine Soapstone carvings; pill boxes; cranberry glass; T G Green Cornishware; Hornby OO gauge railways items and accessories; Royal Doulton character jugs collection (over 80 models) etc.
VIEW ONLINE AND IN PERSON. NOT TO BE MISSED.
~Lots still being accepted for this and future auctions. Please call 01522 690444.