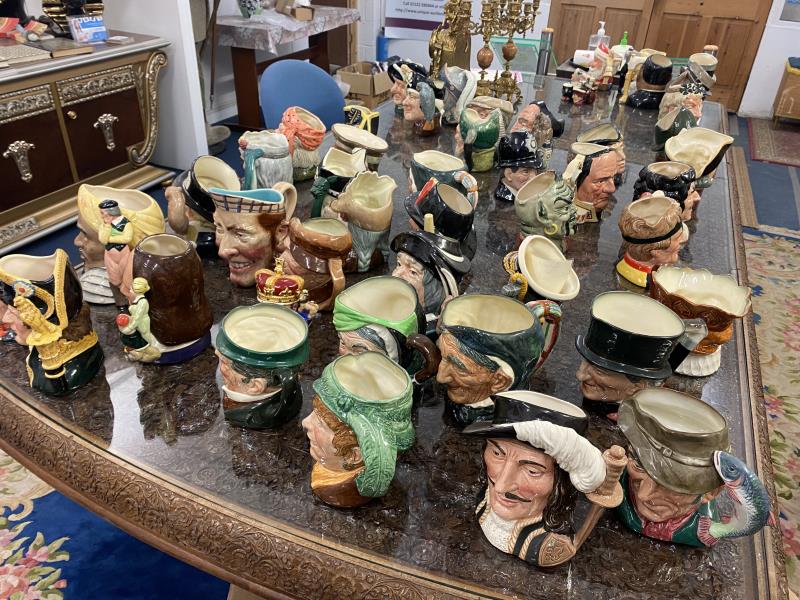 A collection of over 80 Royal Doulton jugs has just arrived for our three day Antiques & Collectors auction in May.
The collection includes mainly full size character jugs, but also a selection of smaller and some miniature examples. The collection includes Limited Editions, Year Editions and some rarer jugs. Examples include Liverpool and Leeds, Hook, The Genie, Napoleon, Shakespeare, Othello, Mae West, Groucho Marx etc.
The auction takes place on May 21st, 22nd and 23rd 2021 starting at 9 am. The Royal Doulton Character Jug Collection will be sold on Sunday 23rd May.
Viewing by appointment and queuing system will be on Thursday 20th May 9am-4pm.
More images of the Royal Doulton Character Jug Collection:
About Unique Auctions
Unique Auctions are one of Lincolnshire's leading Auction Houses offering a range of regular Antique & Collectors sales. Unique Auctions handle every aspect of probate, house, agricultural, commercial and industrial clearances. For further information call UK +44 (0) 1522 690444 or visit http://www.unique-auctions.com
We are now accepting Royal Doulton Character Jugs etc for all future auctions. We also value Royal Doulton Character Jugs etc. We also provide probate valuations for Royal Doulton Character Jugs and collections.