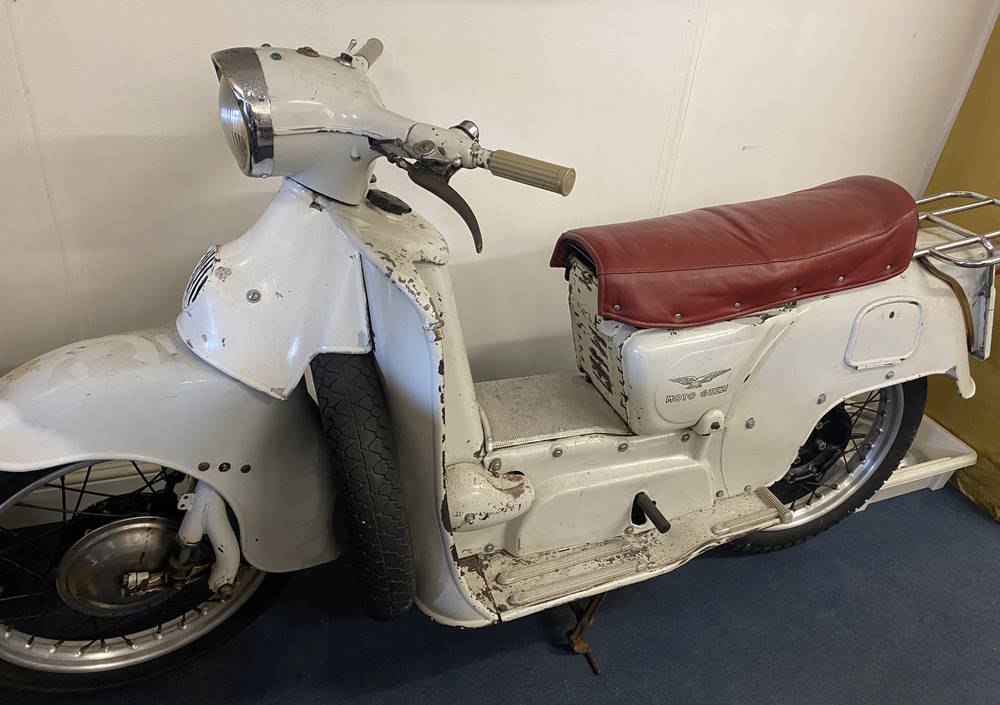 A vintage 1996 Moto Guzzi Galletto Scooter will be of interest to collectors and enthusiatsts at Unique Auctions Antiques, Toy and Collectors auction on the 27th and 28th May 2023.
The lot includes documentation and a number of spares.
Viewing recommended.
History of the Moto Guzzi Galletto
The Moto Guzzi Galletto, introduced in 1950, was a versatile and practical vehicle designed to combine the characteristics of a motorcycle and a scooter. Powered by a horizontally mounted 192cc single-cylinder four-stroke engine that produced 9 horsepower, the Galletto had a four-speed gearbox and a shaft drive, features uncommon for motorcycles of the time. Another uncommon feature was its pressed-steel frame.
Moto Guzzi marketed the Galletto as an easy-to-ride and comfortable vehicle suitable for commuting or leisure riding. Its step-through design made mounting and dismounting easy, and its wide, comfortable seat could accommodate two passengers. Additionally, the Galletto had a large front fairing that provided protection from the wind and weather.
The Galletto's success led to its production for over a decade with the introduction of several different models, including the Galletto 160, which had a larger 160cc engine, and the Galletto 192, which had an improved engine and suspension. The Galletto was particularly popular in Italy, where it was used by the police and the military as a reliable and practical vehicle. It was also exported to other countries, including the United States, where it was marketed as a fun and easy-to-ride scooter.
Today, the Moto Guzzi Galletto remains a popular choice for collectors and enthusiasts who appreciate its unique design and practicality. It is sought-after as a classic motorcycle, valued for its distinctive style and innovative features.
About Unique Auctions
Unique Auctions are one of Lincolnshire's leading Auction Houses offering a range of regular Antique & Collectors sales. Unique Auctions handle every aspect of probate, house, agricultural, commercial and industrial clearances. For further information call UK +44 (0) 1522 690444 or visit http://www.unique-auctions.com
We are now accepting vintage motorcycles including Moto Guzzi etc for all future auctions. We also value vintage motorcycles including Moto Guzzi etc.
Related
Classic Cars, Motor Vehicles, Automobilia and Transport at Unique Auctions
Please follow and like us: