Unique Auctions 13th Annual New Years Sale on January 1st and 2nd 2022 includes an interesting collection of Scientific and Technical Instruments including a Antique Fuller's cylindrical calculator in fitted box; WWII compasses and WWII Air Ministry aircraft altimeter; and a 19th C lacquered brass Pantagraph with ceramic wheels.
Other lots include:
Vintage Monroe mechanical calculator
Vintage Dentists' drill motor with foot control and Head unit. Amalgamated Dental Co Ltd. (no articulated arm components)
19th C lacquered brass Pantagraph with ceramic wheels. Made by Stanley, Gt Turnstile, Holborn WC and London Bridge Terminus, SE. 97 cm long in fitted mahogany box.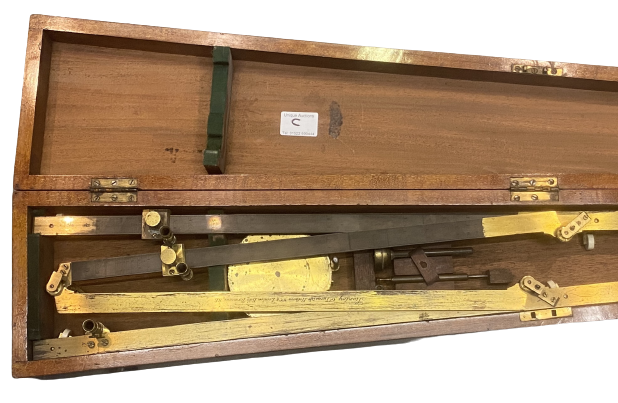 Draughtsman's brass ruler with 2 dimensional serrated brass wheels allowing angled position. In fitted wood box.
Very Rare Antique Fuller's cylindrical calculator in fitted box.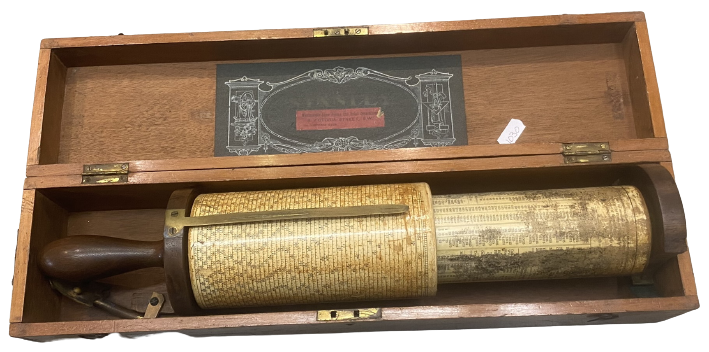 Crosby steam indicator Number 9710 with recording drum (no springs?) in fitted box.
Miniature tea service for the coronation of Queen Elizabeth II. Cauldon Pottery. Complete and unused in original box.
'Bosun' ships compass in original packing unused (1970s) for Heath Marine. Catalogue 42061
Collection of books and magazines on clock making/repairing.
Crosby Steam Indicator mounted on plinth (No: 9711)
1930s Course and Speed Calculator Mk II for aircraft navigation. Made by H Hughes and Sons Ltd (Serial No: 2206/35) for the Royal Aircraft Establishment. Air Ministry ref no: 68/119
Steam Indicator with recording drum and accessories by McInnes-Dobbie in fitted box.
Set of high quality draughtsmen instruments By Stanley, Gt Turnstile, Complete in original silk lined leather covered box.
WW2 British Army prismatic compass in fitted leather pouch.
WW2 British Army Marching compass in Bakelite case. T.G. and Co Ltd. Marked with War Dept arrow and numbered B 234167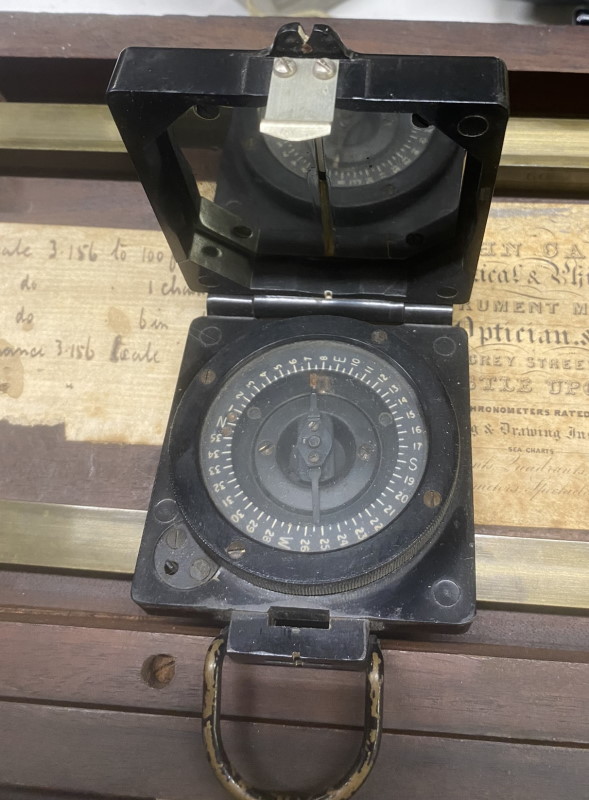 WW2 Air Ministry aircraft altimeter Mk 17A, No: 12593; plus aircraft control panel clock.
Together with a large group of aircraft cockpit bakelite toggle switches, box resistances etc. All marked with AM and the crown mark for the Air Ministry.
Two WW2 Air Ministry Aircraft Cockpit adjustable sunscreens. Marked for Air Ministry, ref no 7A/1137
WW2 British Army prismatic compass (Mk IX) by J.M.Glauser, London
WW2 REME gunsight quadrant / clinometer. Made by Honeywell, Minneapolis, 1943. No: 52927 In fitted leather case.
19th Century Eidograph With paper label for "John Cail, Mathematical and Philosphical Instrument Maker, Newcastle upon Tyne". Lacquered brass in original mahoghany box, instrument engraved 'John Cail' in cursive script.
WW2 Steel angle measure engraved "RAF 895" and "The L.S.Starett Co, Athol, Mass, No 364". In fittet velvet lined box with faint gilding to the top, AM with crown for the British Air Ministry, then LS Starett Co, Athol Mass and London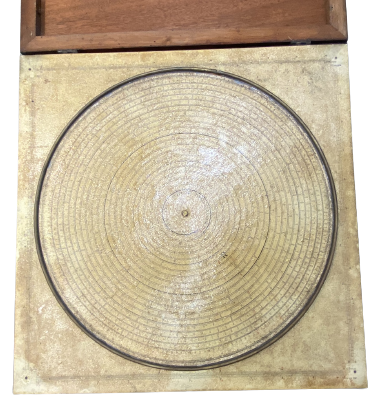 Fearnley's Universal Calculator, (circular slide rule) By Royal Letters Patent.
19th Century circular calculator in fitted mahogany box
An antique and huge circular calculator in fitted mahoghany box. …. cm diameter
Marchant Mechanical Calculator (not working)
WW2 Military (signalling?) torch with lens.
Modern sextant and a large quantity of Mid-20th Century maritime drawing instruments for yacht navigation.
The auction takes place on January 1st and 2nd 2023 starting at 9am. Viewing is on Friday 30th December 10am-4pm and from 7am on the 1st and 2nd of January.
About Unique Auctions
Unique Auctions are one of Lincolnshire's leading Auction Houses offering a range of regular Antique & Collectors sales. Unique Auctions handle every aspect of probate, house, agricultural, commercial and industrial clearances. For further information call UK +44 (0) 1522 690444 or visit http://www.unique-auctions.com
We are now accepting Scientific and Technical Instruments etc for all future auctions. We also value Scientific and Technical Instruments etc.
Please follow and like us: