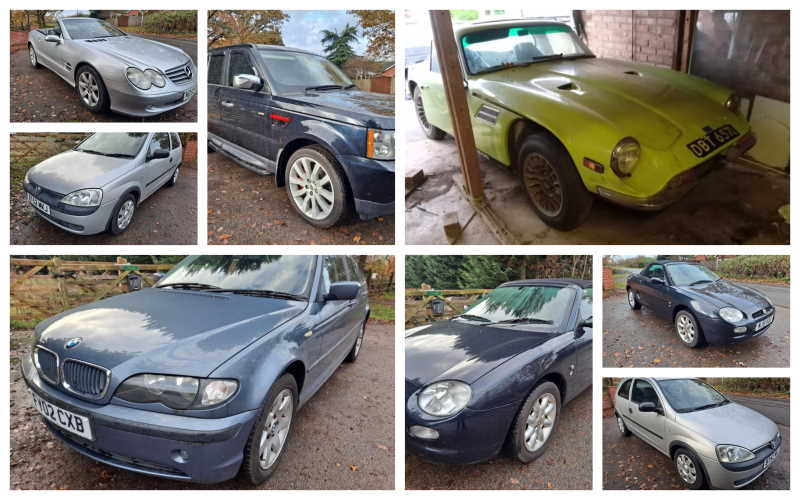 Unique Auctions 13th Annual New Years Sale on January 1st and 2nd 2023 includes at least 16 Future Classic Cars including including TVR, MGF, Rover 75 Connoisseur, Range Rover Sport, Ford Focus LX TD, BMW 318i SE, Mercedes 350SL auto, Mazda RX8, Ford Mondeo ST220 etc.
1972 TVR 1600M
2001 MGF MOT Oct 2023 72kmiles
2001 Nissan Micra MOT Feb 23 36k miles
2004 Rover 75 Connoisseur
2009 Range Rover Sport HSE TDi/6 auto MOT March 2023
2001 Ford Focus LX TD MOT Nov 2023 37k miles
2000 Vauxhall Corsa Envoy MOT Feb 2023 37k miles
2002 BMW 318i SE one owner MOT April 2023 67k miles
2003 Mercedes 350SL auto MOT Sept 2023
2003 Vauxhall Corsa Club 16V MOT April 2023 31k miles
2001 MGF MOT Nov 2023 70k miles
2001 Mercedes S500 LWB MOT August 2023 75k miles
1987 Nissan Micra Colette bar find 27k miles
2007 MAZDA RX8 MOT Nov 2023 69k miles
2004 Ford Mondeo ST220 3.0 MOT July 2023 96k miles
The auction takes place on January 1st and 2nd 2023 starting at 9am. Viewing is on Friday 30th December 10am-4pm and from 7am on the 1st and 2nd of January.
About Unique Auctions
Unique Auctions are one of Lincolnshire's leading Auction Houses offering a range of regular Antique & Collectors sales. Unique Auctions handle every aspect of probate, house, agricultural, commercial and industrial clearances. For further information call UK +44 (0) 1522 690444 or visit http://www.unique-auctions.com
We are now accepting Future Classic Cars etc for all future auctions. We also value Future Classic Cars etc.
Please follow and like us: