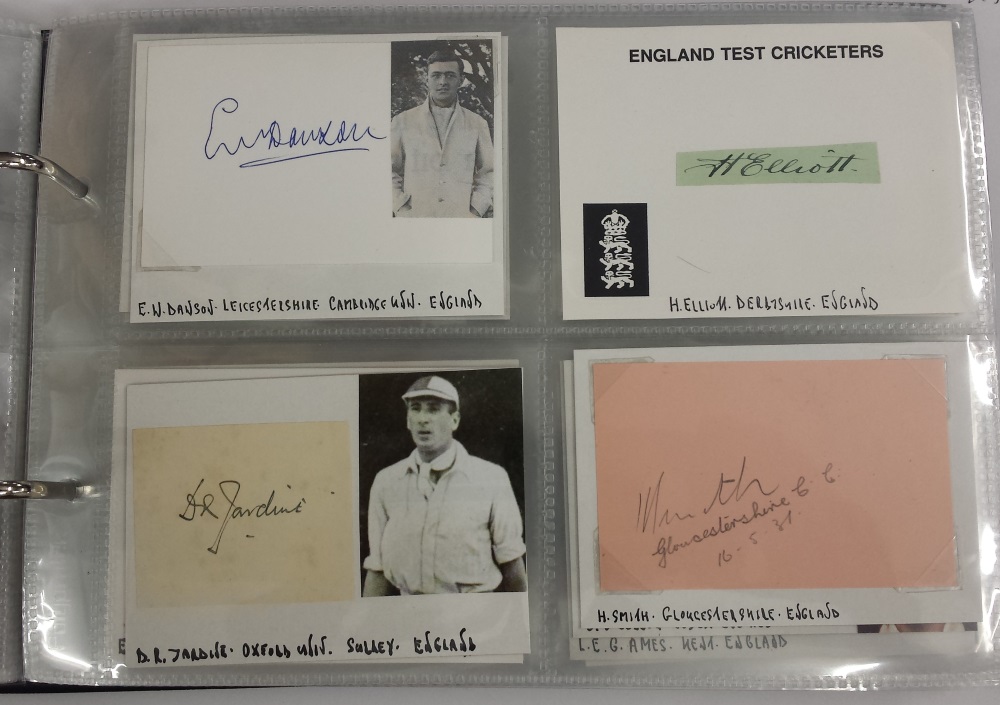 In our forthcoming Antique & Collectors' Auction on the 27th & 28th July we have four very interesting lots of cricketing memorabilia. Amongst the pictures and cards of cricket players for England and Australia from the first half of the 20th century, there are a collection of 220 autographs.
Amongst them are a number of well-known players including W.G. Grace, Jack Hobbs, Don Bradman and Douglas Jardine, there are also a number of historic cricket players –
C.S. 'Ted' White who played for New South Wales and toured England with the Australian team in 1938 without playing a Test match
Donald Knight who opened regularly for Surrey with Jack Hobbs during 1919 but the following year was unfortunately struck on the head whilst fielding and his batting was never the same again
Andy Ducat who was one of the very few sportsmen to represent England in cricket and football
Andy Sandham who made the first triple century in Test cricket
Nawab of Pataudi who was one of the few cricketers to have played for two international teams in Test cricket namely India and England
There is also a collection of Indian cricket memorabilia which features a variety of letters and books from P.R. Man Singh.
The collection of autographs in each lot are as follows –
Lot 2313 – Album of Australian cricket memorabilia and autographs from early to mid-20th century
Graham
A. Noble
W. Armstrong
J. Whitty
A. McAlister
G. Macartney
R.A. Gehrs
Carter
Bardsley
R. Mayne
L. Collins
A. Mailey
A.S. Oldfield
E.P. Pellew
Ryder
A. MacDonald
J.E. Andrews
S.T.L. Hendry
H. Posford
J. Richardson
Y. Richardson
V. Grimmett
F. Kippax
M. Woodfull
G. Bradman
L. a'Beckett
Jackson
G. Fairfax
M. Hornibrook
W. Wall
J. McCabe
Hurwood
E. Rigg
J. O'Reilly
H. Alexander
H.W. Fingleton
J. Nash
P.J. O'Brien
H. Bromley
S. Darling
A. Brown
G. Chipperfield
L. Hassett
O'Brien Fleetwood-Smith
L. McCormick
L. Badcock
A. Ward
G. Gregory
A. Barnett
G. Barnes
G. Waite
W. Walker
A. Brown
C.E. White
L. Hassett
Lot 2318 – Album of England cricket memorabilia and autographs from early-20th century 
Gunn
G. Grace
T. Hease
S. Jackson
C. MacLaren
H. Hirst
R. Mason
Haigh
T. Tyldesley
F. Walker
G Archer
Rhodes
L. Jessop
Mead
G. Quaife
C. Brand
R. Gunn
Fielder
Denton
H. Spooder
N. Crawford
G. Hayes
Gunn
Hardstaff
A. Young
B. Hobbs
Sharp
D.G. Leveson Gower
E. Woolley
C. Tufnell
W.H.T. Douglas
R. Foster
W. Hitch
P. Mead
W. Hearne
J. Smith
Dean
W. Booth
H. Tennyson (3rd Baron Tennyson)
Lot 2322 – Album of England cricket memorabilia and autographs from early to mid-20th century
H. Hendren
H. Parkin
A.G. Russell
Waddington
Howell
W.H. Makepeace
G.H. Fender
Dolphin
R. Wilson
Holmes
W.C. Jupp
J. Knight
L. Richmond
Tyldesley
E. Dipper
J. Durston
J. Evans
E. Haig
Brown
Ducat
T.W. Hardinge
C. White
W.L. Parker
Hallows
Sandham
W. Carr
E.R. Gilligan
S. Kennedy
T. Mann
T.S. Stevens
G. Macauley
B. Street
P.F. Chapman
Kilner
Sutcliffe
W. Tate
E.C. Wood
K. Tyldesley
Duckworth
Geary
C.W. MacBryan
P. Freeman
W. Whysall
F. Root
Larwood
E. Astill
R. Hammond
B. Legge
A.R. Peebles
T. Stanyforth
E.S. Wyatt
J. Staples
W. Dawson
Elliott
R. Jardine
Smith
Leyland
S. Duleepsinhji
T. Killick
O'Connor
W.V. Robbins
H. Bowley
Barratt
E.G. Ames
W. Clark
J.C. Allom
L. Crawford
H.H. Gilligan
S. Nichols
J. Turnbull
S. Worthington
S.G. Calthorpe
Voce
F. Townsend
O.B. Allen
W.J. Goddard
Farrimond
W. Lee
Arnold
H. Bakewell
R. Brown
Verity
Payster
E. Bowes
Nawab of Pataudi
B. Mitchell
F. Walters
Langridge
J. Barnett
S. Marriott
Mitchell
H. Valentine
H.V. Levett
Farnes
L. Hopwood
W. Keeton
E. Hollies
R.T. Holmes
Iddon
A.E. Paine
I.J. Smith
C.H. Townsend
S. Mitchell-Innes
Barber
Hardstaff Jnr.
M. Sims
Smith
C. Clay
D. Read
Gimblett
E. Fagg
B. Fishlock
R. Gover
Hutton
H. Parks
W. Wellard
C.S. Compton
D.G. Matthews
Washbrook
J. Edrich
A. Sinfield
V.P. Wright
F.F. Price
Wood
A. Gibb
L. Wilkinson
W.D. Yardley
T.D. Perks
H. Copson
Lot 2326 – A collection of India cricket memorabilia including letters, Christmas cards and 4 books (3 signed) form P R Man Singh
About Unique Auctions
Unique Auctions are one of Lincolnshire's leading Auction Houses offering a range of regular Antique & Collectors sales. Unique Auctions handle every aspect of probate, house, agricultural, commercial and industrial clearances. For further information call UK +44 (0) 1522 690444 or visit http://www.unique-auctions.com
We are now accepting cricket items, cricket ephemera and cricket memorabilia etc for all future auctions. We also cricket items, cricket ephemera and cricket memorabilia etc.
Unique Auctions, The Unique Auctions Building
Vincent Court, Turnstone Road, Teal Park, Lincoln, LN6 3AD
Items Always Accepted For All Future Sales. Complete House Clearances Handled Daily.
If you would like further information, please email us at


[email protected]


or telephone our office on 01522 690444.