New Year's Day Auction to Feature Personal Silverware and Cutlery from World War II Era
Unique Auctions is set to present an exceptional collection of Adolf Hitler's personal silver items and cutlery in their highly anticipated New Year's Day auction on the 1st of January 2024. This exceptional sale offers a unique opportunity for historians, collectors, and museums to acquire rare artifacts from a significant period in world history.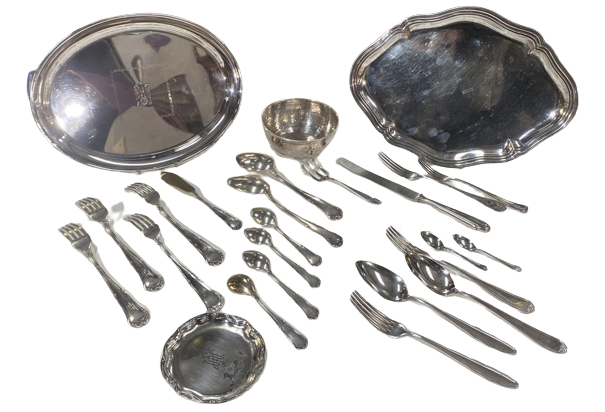 Highlighted Items Include:
ADOLF HITLER PERSONAL FORMAL SILVERWARE: A solid silver oval serving tray from the Berghof by Bruckmann & Sohne, marked 800.

Adolf Hitler Personal Formal Silverware A Solid Silver Oval Serving Tray From The Berghof By Bruckmann & Sohne

ADOLF HITLER MARKED CUTLERY: A comprehensive collection of cutlery marked with AH by renowned maker Wellner.
GORING SONNEMANN SILVER WEDDING PLATTER: A special silver platter commemorating the wedding of Herman Goring and Emmy Sonnemann. Marked to rim Hansch Dresden 835 Silver. Herman Goring and Emmy Sonnemann tied the knot in a lavish ceremony in 1935. The wedding was not just a union between two individuals but was seen as a merging of political power and cultural influence. Goring, as one of the top-ranking officials in the Nazi regime, wielded considerable political influence, while Emmy Sonnemann, with her stature in the German theatre and film industry, represented cultural prominence. The wedding was a significant event, attended by high-ranking Nazi officials and personalities from the entertainment world.

A Goring Sonnemann silver wedding platter made for the wedding of Herman Goring and Emmy Sonnemann

EVA BRAUN FORKS: An Eva Braun fork and a smaller fork, both featuring her engraved monogram, E B, at the base. Eva Braun remains an enigmatic figure in the annals of World War II history. Having spent much of her adult life in close association with Adolf Hitler, these personal items provide a tactile link to the life of a woman who witnessed firsthand the rise and fall of the Third Reich.

An Eva Braun fork and a smaller fork both featuring her engraved monogram E B at the base

HITLER YOUTH FORK TRIDENT: A unique piece symbolizing the Hitler Youth movement.
LEIBSTANDARTE ADOLF HITLER MARKED CUTLERY (LAH): Specialized cutlery marked for Hitler's personal guard division. The Leibstandarte SS Adolf Hitler began as Hitler's personal bodyguard and rapidly expanded to become an elite division of the Waffen-SS. Their involvement was seen in key battles, atrocities, and significant events throughout the Nazi regime's tenure. The presence of this cutlery set, specifically marked for them, is a stark reminder of the proximity this division had to the core of Nazi leadership. Given their elite status, it's conceivable that such cutlery would be used in formal settings, gatherings, and events that involved high-ranking Nazi officials.
With both live and online bidding options available, enthusiasts from around the world can participate. The auction house will open its doors for viewing on Friday 29th December from 10am-4pm allowing prospective bidders an up-close examination of these unparalleled artifacts.
Unique Auctions' representative stated, "This collection represents a truly unique assembly of items from an era that shaped modern history. While they are undeniably associated with controversial figures, they provide invaluable insights into the personal lives and aesthetics of those involved."
Given the rarity and historical significance of the items, viewing is highly recommended for serious bidders.
For more information, or to register for online bidding, please email or call 01522 690444.
About Unique Auctions: With years of experience in curating and presenting rare and unique items, Unique Auctions stands as one of the premier auction houses for exceptional collections. Committed to authenticity and excellence, the auction house continually draws collectors, historians, and enthusiasts from around the globe.
Please follow and like us: