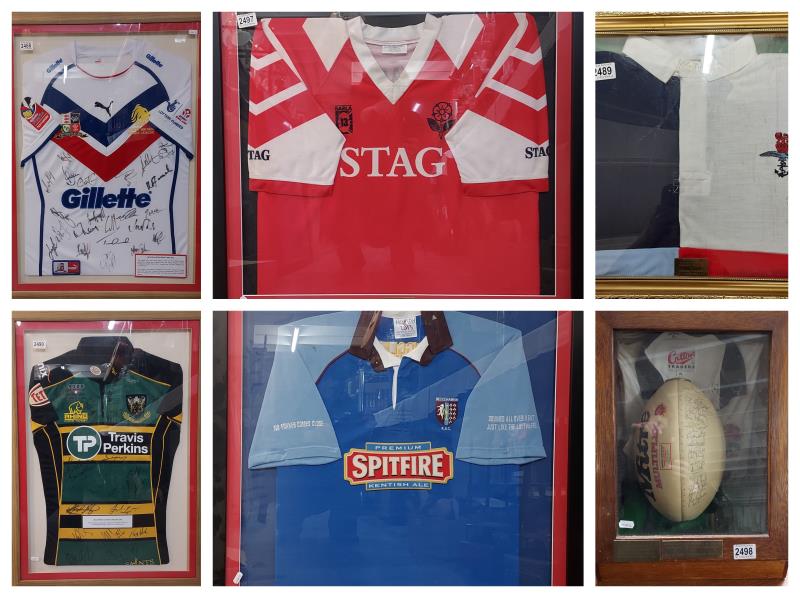 A not to be repeated collection of 10 framed Rugby Shirts from RAF Waddington Rugby Club will be of interest to collectors at Unique Auction's three day Antiques and Collectors auction on the 27th-29th May auction.
The collection includes:
2007 Signed Great Britain Shirt
Rugby League shirt with victory over New Zealand
Cased signed Rugby Ball from 1993 England team presented to RAF Waddington
All funds raised will go towards refurbishing the clubs building for uses by Forces families.
Viewing: Thursday 26th May 9am-4pm and by appointment. Please call 01522 690444 or email to book a slot.
Viewing from 7am on the morning of each auction on the morning of the sales.
About Unique Auctions
Unique Auctions are one of Lincolnshire's leading Auction Houses offering a range of regular Antique & Collectors sales. Unique Auctions handle every aspect of probate, house, agricultural, commercial and industrial clearances. For further information call UK +44 (0) 1522 690444 or visit http://www.unique-auctions.com
We are now accepting signed Rugby Shirts and signed Rugby Balls etc for all future auctions. We also value signed Rugby Shirts and signed Rugby Balls etc. We also provide probate valuations for signed Rugby Shirts and signed Rugby Balls etc.