Unique Auctions, Lincoln is hosting an open day on Sunday 1st October, starting at 9 am to 1 pm. Terry Woodcock – Proprietor and Auctioneer of Unique Auctions said, 'We are organsing our Open Day to invite all those who ever wondered what it is like to buy and sell at auction, to answer questions about what an auction house does, and to invite you to view our facilities and our new auction room'.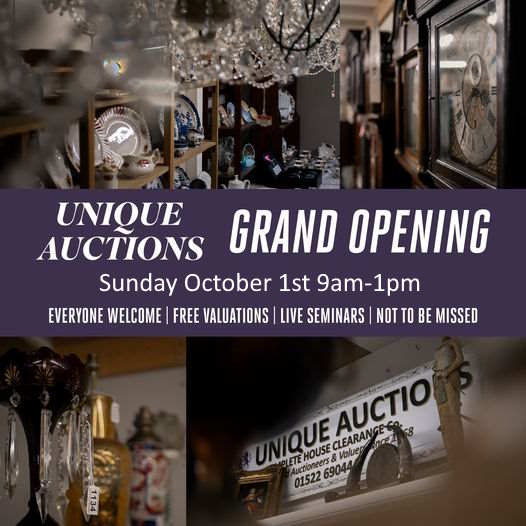 We are inviting anyone who would like to view an auction house to come along and ask questions, to see first-hand how an auction house works, to view our auctions rooms and to meet the team.
"We are here to answer questions such as who can bid, how to bid, bidding online, and the do's and don'ts of bidding and buying at auction, and also to see how a live auction works.
We will also answer questions about the various services we offer, including house clearance; our valuation service, as well as our services valuating for probate and insurance services.
We sell everything from Antiques to vintage and collectables, art, furniture, jewellery, porcelain, stamp and coin collections, textiles electronics to general household items and much more.
No booking is required, just come along and enjoy the day at Unique Auctions Open Day and meet the team. Full details of all our forthcoming auctions will be available, plus details of our specialist auctions.
The event is Sunday 1st October 2023 from 9 am – 1 pm and all are welcome.
Event Location: The Unique Auctions Building, Vincent Court, Turnstone Road, Teal Park, Lincoln LN6 3AD.
Please follow and like us: