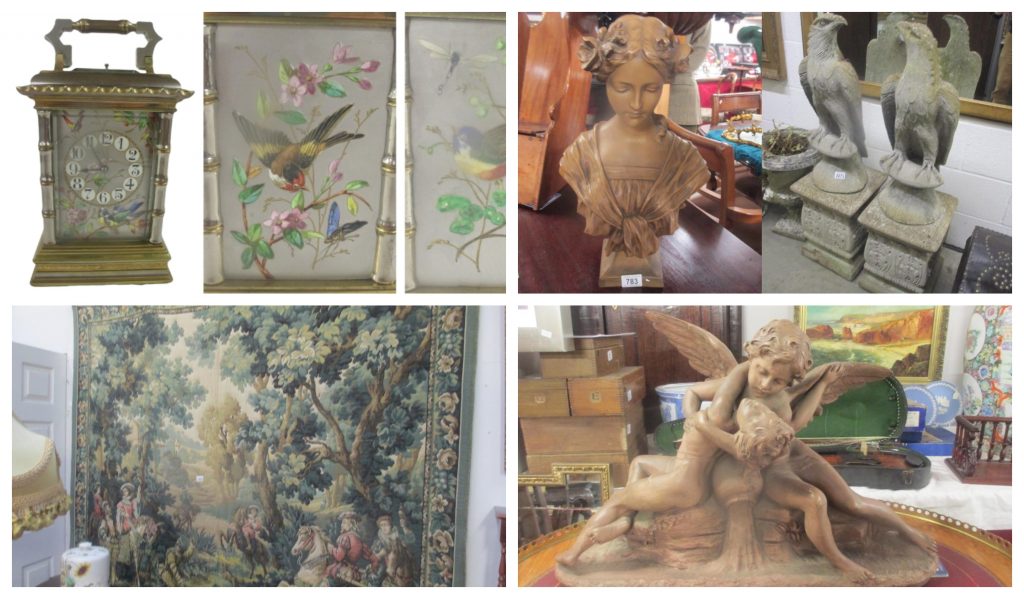 Our New Years Day auction for this year is being held over three days on the 1st, 2nd and 3rd of January. There are approximately 2,000 lots and we look at some of the highlights below. We also include some image from the sale room as we are unsure at this whether we will be having any viewing.  Bidders are able to bid online and there are links below to all the auction platforms.
Highlights include:
Original Orient Express Pullman chairs
Rare Dumas Paris 19th Century Limoges Panel Carriage Clock
Several vintage Ladderax shelving units
Fine 18th Century David Prowting Adam and Eve Grandfather Clock
Fine 20th century tapestry
Victorian Rocking horses
Collection of Victorian pot lids
A signed bust of a lady – D G Varenburg. 48 cm tall.
A Richard Aurili original statue of Psyche and Cupid in terracotta, signed. 46 cm tall x 70 cm wide.
Click to view Catalogues and bid through the Unique Auctions Live Bidding Site
using the-saleroom technology (3.95% rather than 4.95% on the-saleroom) (please note catalogue being updated daily)
Click to view Catalogues and  bid through the-saleroom (online commission 4.95%) (please note catalogue being updated daily)
Click to bid through EasyLiveAuction (flat fee or commission) (please note catalogue being updated daily)