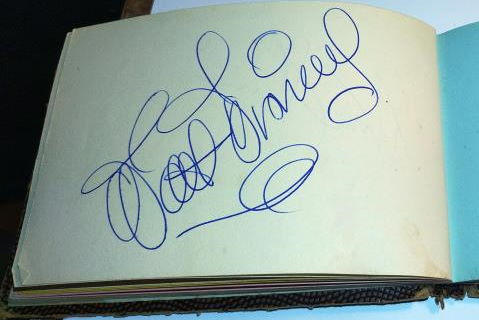 An excellent autograph album including the signatures of Walt Disney, Judy Garland, John Wayne and Burt Lancaster will come to auction at Unique Auction's three day Antiques and Collectors auction on the 25h-27th March 2022. The autograph collection was collected by Peggy who worked for the UK ambassadorial team in both the USA and UK.
The collection includes over 50 autographs in one book and as well as an early signature of Walt Disney it includes Buster Keaton, Burt Lancaster, Dinah Shore, Mary Martin, Claudette Colbert, Judy Garland, John Wayne, Montgomery Clift, Janet Leigh, Dawn Adams, Ann Blyth, Hoagy Carmichael and many more.
The lot also a signed Frank Sinatra photograph and a Let's Not Forget We're All Foreigners leaflet signed by Frank Sinatra.
The collection has an estimate of £2,000-£3,000.
Below are a number of images from the album:
Viewing: Thursday 24th March 9am-4pm and by appointment. Please call 01522 690444 or email to book a slot.
Viewing from 7am on the morning of each auction on the morning of the sales.
About Unique Auctions
Unique Auctions are one of Lincolnshire's leading Auction Houses offering a range of regular Antique & Collectors sales. Unique Auctions handle every aspect of probate, house, agricultural, commercial and industrial clearances. For further information call UK +44 (0) 1522 690444 or visit http://www.unique-auctions.com
We are now accepting autograph albums and collections etc for all future auctions. We also value Film Star Letters, Signed Photographs and Communications etc. We also provide probate valuations for autograph albums and collections.