A Large Private Collection of Militaria
June 14th 2023 9am
VIEWING: From 10am-4pm 13th June
LOTS BEING ACCEPTED FOR THIS AUCTION UNTIL WEDNESDAY 31st MAY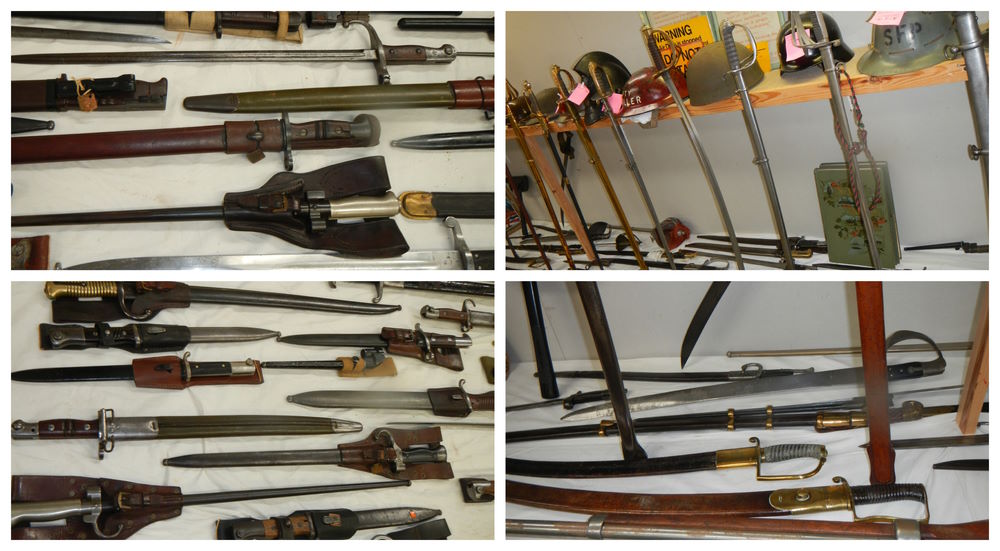 An excellent collection of Militaria from the late Mr Gandy of Nottingham including a large collection
of Bayonets, Helmets, Swords, Guns, Uniforms, Medals, Miniatures, Firemans items and more!
Over 500 lots. Many Rare Items. Not to be Missed.
Click to view Catalogues and  bid through the-saleroom
(online commission 4.95% + Unique Auctions Commission of 22%)
Click to bid through EasyLiveAuction
(flat fee £3 or commission 3% + Unique Auctions Commission of 22%)

Click to view Catalogues and  bid through invaluable.com
(online commission 5% + Unique Auctions Commission of 22%)
To include: Brown Bess East India Trading Company; A large collection of Bayonets; Medals; A large collection of Helmets including WWI, WWII, Military Police, Japanese, Firemans etc; North African Assassins Blade, Prostitutes Dagger; Daggers from the Battle of Omdurman; Japanese Surrender Flag; Pistols; Death Plaques, Death Masks; Many Military Books; Samurai Suit of Armour, Samurai; Menpo Masks and Samurai Swords; Tribal weapons including Fiji Suva Dagger and Club; Cannonball and Wood purportedly from HMS Victory; A collection of Fireman's related items and equipment; Many 18th and 19th C Swords etc.; Flintlock pistols and other guns; Uniforms; etc.
Below is part of the collection as it came in.
The collection is now being catalogued with the initial catalogue going live in mid-May.
Call 01522 690444 to register an interest.
Important Auction Information
Collections – Please make sure you book a collection slot before you come to collect your items, as if you turn up without an appointment you may have to wait until those with an appointment have been dealt with.
Condition Reports – We are available to provide written condition reports on all lots as required.
Anyone bidding has agreed to our Terms & Conditions and when bidding has satisfied themselves
to the condition of the items. Unique Auctions will not take any responsibility unless a condition report has been provided.
Please ask for condition reports or any questions well before the sale to give us time to answer.
We are receiving hundreds of conditions for our online only sales. We are trying to answer all as quickly as possible.
Closing time for condition reports is 1pm on the Friday before the weekend auction, for the Wednesday evening auction closing time for condition reports is 2pm on the day of the auction.
Post and Package – We are able to pack and post many items and we send insured but we cannot take any responsibility for the items once posted. Please check before bidding that we can post the lot out and also please allow up to 14 days for the arrival of your parcel. Parcels will only be posted out to the address on the invoice.
If a parcel is returned to us because there was nobody home to receive it then there will be a re-postage charge.
Unique Auctions
Vincent Court, Turnstone Road, Teal Park, Lincoln, LN6 3AD
Tel: 01522 690444 or email: [email protected]