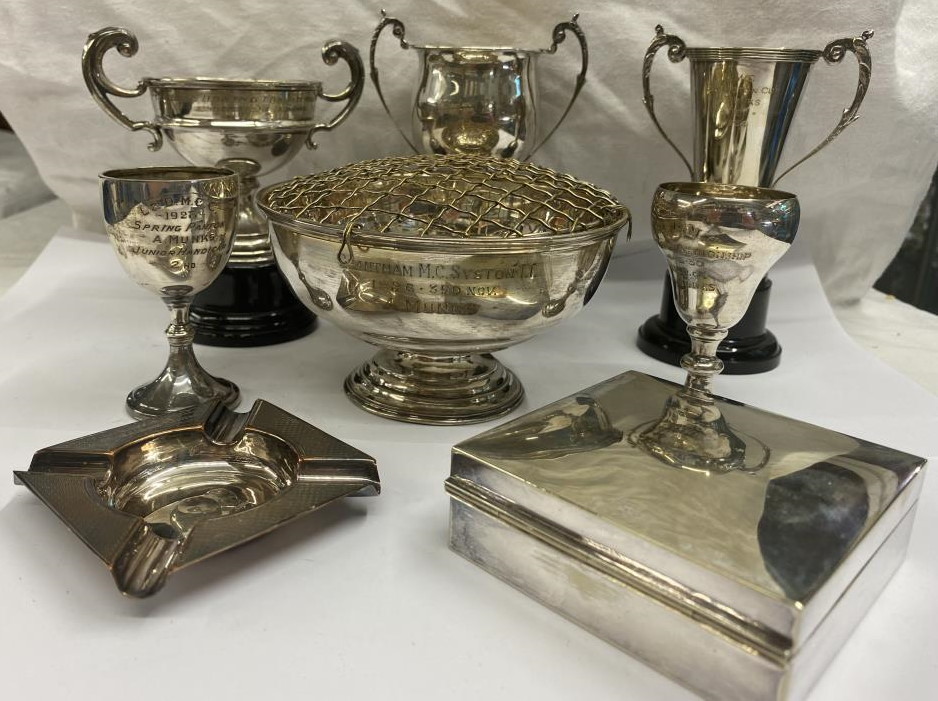 A collection of eight trophies and prizes belonging to 1930s and 1940s Lincolnshire Motor Cycling Great Austin Munks will be of great interest to collectors at Unique Auctions sale on the 26th September.
The collection consists of 5 silver trophies and awards and 3 silver plate trophies and awards from various motor cycling tracks and courses including Donnington, Benington and Syston.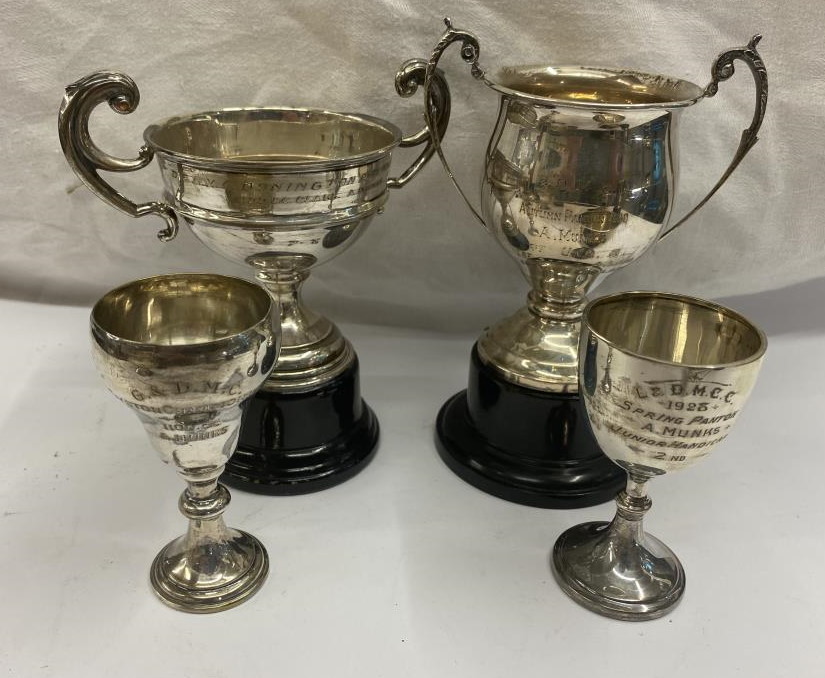 Austin Munks was born in Leverton in South Lincolnshire and was a leading motor cyclist either side of World War II and was the first man at the Isle of Man Grand Prix in 1936 to win the double, the Junior and the Senior (500cc) on Velocette and Norton machines respectively.
Austin was the youngest son of Mr and Mrs A E Munks, and his father was blacksmith of the Highgate. He was obviously always interested in speed, and started racing locally on grass and at proper hard tracks, Donington Park being the nearest. His first Isle of Man Manx Grand Prix victory came in 1933, when he won the Junior (350cc) on a Velocette – he had finished third in the Junior class on his Velocette the previous year. Three years later, in 1936, he was the first man ever to win the double, the Junior and the Senior (500cc) on Velocette and Norton machines respectively. After the war, in 1947, Austin was to secure his final Manx Grand Prix victory, winning the Lightweight class (250cc) on a Moto Guzzi, with an average speed of seventy miles per hour, setting a new record lap of 72.54mph. Source feature by John Almond for Lincolnshire Life – for full article click here.
About Unique Auctions
Unique Auctions are one of Lincolnshire's leading Auction Houses offering a range of regular Antique & Collectors sales. Unique Auctions handle every aspect of probate, house, agricultural, commercial and industrial clearances. For further information call UK +44 (0) 1522 690444 or visit http://www.unique-auctions.com
We are now accepting memorabilia, trophies, silver etc for all future auctions. We also value memorabilia, trophies, silver etc. We also provide probate valuations for memorabilia, trophies, silver and collections.