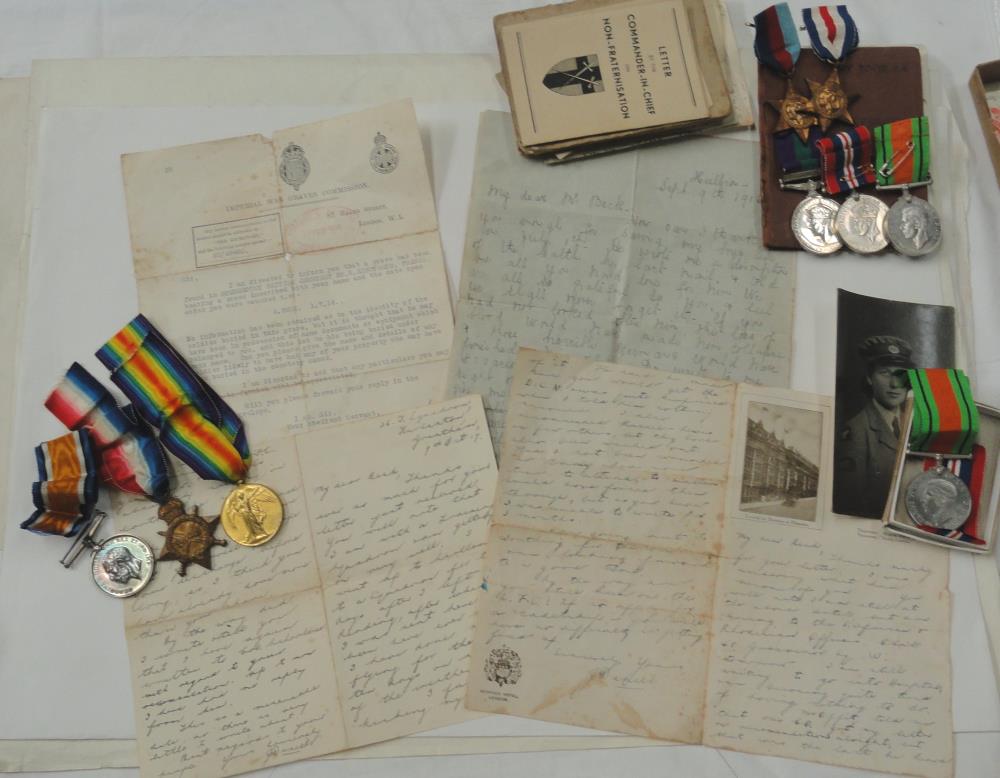 A very interesting collection of medals and related letters will be of interest to at Unique Auctions Antiques & Collectors auction on the 28th and 29th July. The collection includes medals for unsung war hero Richard Beck of the 16th London Regiment from WWI, his medals from WWII and his wife's medal a Mrs O V Coulter (later Mrs O V Beck).
What makes the collection more interesting is the related letters.
Included are correspondence relating to a soldier thanking Mr Beck for saving his life on 1st July 1916, the first day of the Battle of the Somme. There are three letters addressed to Mr Beck including one from the boy's mother dated September 9th 1916 stating 'How can I thank you enough for saving my boys life on July 1st'. It is assumed that the incident may have occurred on the first day of the Battle of the Somme. There are later letters from 1917 telling of how the boys if progressing.
Also in the collection is a letter from the Imperial War Graves Commission dated 17 Feb 1928 saying that a grave had been found at Gommecourt British Cemetery No. 2 Hebuterne bearing the name R Beck 1.7.16. This was the date that Mr Beck was wounded and obviously believed at the time to have perished. Unfortunately there was no information on the actual person in the grave.
The WWII medals include the France and Germany Star, 1939-1945 Star, The Defence Medal and Palestine Medal 1945-1948.
The interesting story behind the collection would make this a great addition to any medal collection.
About Unique Auctions
Unique Auctions are one of Lincolnshire's leading Auction Houses offering a range of regular Antique & Collectors sales. Unique Auctions handle every aspect of probate, house, agricultural, commercial and industrial clearances. For further information call UK +44 (0) 1522 690444 or visit http://www.unique-auctions.com
We are now accepting medals and militaria etc for all future auctions. We also value medals and militaria etc.