Forthcoming Properties at Auction
About Us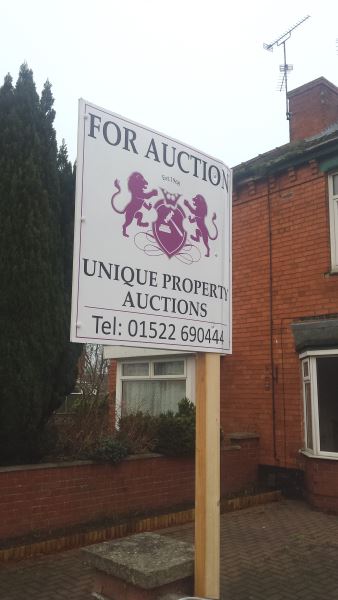 Unique Auctions is one of Lincoln and Lincolnshire's Premier Auctioneers and Auction Houses. We handle every aspect of probate, estate and house clearances for private clients, as well as solicitors; banks; will writers; estate agents and local councils. We also sell residential and commercial properties through our auction house, plus land. If you require any further information about Unique Auctions services, please do not hesitate to contact me, or a member of Unique Auctions team who will answer any of your questions.
Selling and buying property through an auction house is now a popular and alternative method to selling a property through the customary route of employing an estate agent. Selling through auction can be a simple, quick and an effective way of both selling and buying a property. Unique Auctions has been trading as an auction house since 1968, and is now one of Lincolnshire's premier auction houses, selling locally, nationally and internationally.
Our Unique Property Auctions Guide helps to explain the practice of selling and also buying a residential or commercial property, or land at auction. This guide will direct you through the auction process. It will help and support you in answering any of your questions to ensure that you fully understand the process, and to assist you in achieving a successful sale or purchase.
What are the advantages of selling a property at Unique Property Auctions compared to selling a property through traditional methods? 
The advantages of selling a property at Unique Property Auctions include the speed and the transparency of the sale and purchase between seller and buyer. There is also the advantage of the one fee payment. This allows you to budget, as there are no unknown or hidden costs. We have 20 years' experience and a large customer base for marketing your property.   
What types of properties are sold at Unique Property Auctions?
Unique Property Auctions are able to sell any property located locally, regionally and nationally through our auction house. This includes residential and commercial properties, including the following property types: country estates; apartments to smaller residential properties; buy-to-let properties; properties ripe for renovation, tenanted properties, mixed use properties; commercial offices; warehouses; industrial units and retail premises. We are also able to sell land and building plots that has developmental potential.
How much will it cost to sell a property at auction? 
With Unique Property and Land Auctions there is only one fee to pay, which covers everything from marketing video to photography, to selling the property. This includes:
Providing a detailed property brochure with supporting images and listing the dimensions of the rooms within the property
Details of what is included in the sale such as fixtures and fittings
Details of the property's boundaries and garden / land access
Details of local amenities
A legal pack containing all the required official information 
The total fee for our above services is £850.00 plus VAT. This includes our auction fees.  
How do Unique Property Auctions set the property guide price?
Unique Auctions will provide a free auction value appraisal. The property guide price is valued on similar properties in the area, and also on the condition and maintenance of the property, the size and location of the plot, and the potential or planning etc. 
What about marketing the property sale?
Unique House Auctions will deal with all the marketing of the property sale. We will promote the property for sale through our extensive network of contacts and buyers locally,   regionally, nationally and internationally. This ensures your property receives maximum promotional coverage, and also so we can help in gaining maximum price for your property. The marketing will include printing a marketing pack containing the particulars of the property. Details of the property will also be promoted on our business website and our other social media sites for potential buyers to review.
The property marketing pack will be printed listing title deeds, conditions of sale and house dimensions, supported by a range of images. The pack will also include details about the area and amenities within the locality. This will be printed and produced to give to all potentially interested clients.
 Is there an entry fee to put my house up for sale in Unique House Auctions?
The total you pay is a one off fee of £850.00 plus VAT. There are no further fees to pay even when it sells. 
What happens if the property does not sell, and what are the costs   to the seller and their obligations?
If the property does not sell, the seller pays no further fees, and the owner of the property has no commitment to Unique Property Auctions, if they so wish at no further cost to themselves. They also receive their legal pack with compliments at no extra cost from Unique Property Auctions.
How often are Unique Property Auctions held? 
Unique Property Auctions are held every two months 
How long does it take to sell a house at auction?
The sale of a property at auction usually takes between 6-8 weeks allowing the sales and legal team time to prepare the marketing pack and legal pack, as all details are checked thoroughly by our legal advisor. 
What about property searches and the legality of the sale? 
Property searches can all be completed and all findings can be included in our legal pack, which under instruction can be carried out by our Advisor. All these incur extra costs. Alternatively these can be prepared by your own solicitors:
Official Copy of Register of Title
Land Registry and Local Searches
Special Conditions of Sale
Property Information Form
Fixtures and Fittings Form
Management Information
Leases
Tenancy Agreements
Planning Permission Documentation
At Unique Property Auctions we recommend that all documentation within the legal pack is checked thoroughly by those who wish to bid for the property and also by their legal advisors. 
How can you prepare your property to gain maximum interest? 
It is useful to have any documentation about the property available to assist in the sale of the property.  Documents may include:
Energy performance certificates
Electricity and utility bills
Servicing of boilers etc.
The more information that is available, the easier it is to sell a property and advise and answer questions posed by any potential buyer, inviting greater interest.
BUYING AND SELLING LAND AT AUCTION 
Unique Property Auctions also sells land at auction on our client's behalf. This may include land ripe for development; building plots; land surplus to requirements; and land with and without planning permission. For further information please contact Unique Auctions Team: Tel: 01522 690444
Buying a property through auction is now a popular and alternative method to buying a property, rather than the more traditional route of through an estate agent. Buying a property at auction can be a simpler, quicker and more convenient and effective method of buying a property. Unique Auctions has been trading as an auction house since 1968, and is now one of Lincolnshire's premier auction houses.
What type of buyer buys at auction? 
Typical buyers who buy property at auction include property investors; buy-to-let landlords; property developers and home buyers.
What opportunities will be available to view the property? 
Viewing any of our auction properties is simple, convenient and can be easily   arranged by contacting Unique Property Auctions Tel: 01522 690444. All viewings are accompanied. For further information about Buying a Property at Auction please contact Unique Auctions to discuss your requirements.
SELLING A RESIDETIAL OR COMMERCIAL PROPERTY OR LAND AT AUCTION
If you have a residential or commercial property or land that you are interested in selling at auction, or would like to receive further information regarding our Property Services, to discuss your requirements in further detail or to request a FREE pre-auction appraisal of your property, please do not hesitate to contact: Unique Premier Property Auctions at Unique Auction House, Lincoln
Tel: 01522 690444 or Email: office@unique-auctions.com