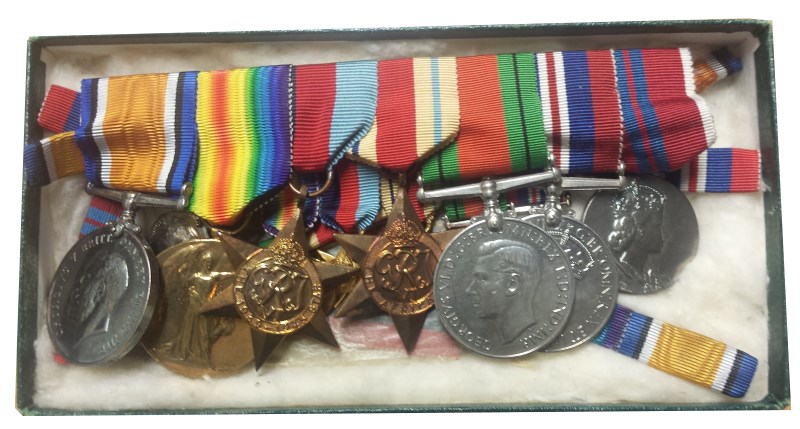 Unique Auctions are pleased to announce the consignment of large Private Medal Collection that will be sold on Sunday 25th March. The medal collection includes:  approximately 200 WW1 – WW11 medalsl a George VI OBE; a cased set of miniature medals including an OBE; approximately 18 WW1 Death Plaques (some still in their wax envelopes). Militaria items include man Military Buttons, Cap Badges, a rare Boer War Medal, 1914-18 Letter, Postcard & Death letter, many 'dedicated' (named) WW1 & WW11 medals etc. We are in the process of sorting and listing this important collection into suitable and relevant lots.
As well as this single owner collection we are also presenting to auction a set of First and Second World War medals awarded to Oliver Baldwin, 2nd Earl Baldwin of Bewdley (eldest son of Conservative Prime Minister Stanley Baldwin) consisting of War and Victory Medal (2nd Lieutenant O.R. Baldwin), 1939-45 Star, Africa Star, Defence Medal, 1939-45 War Medal and 1953 Coronation Medal with matching set of miniatures. Also included an Arms, Crests & Monograms book incribed 'Oliver Ridsdale Baldwin from Grandmama Aug. 1910', letter from War Secretary Anthony Head to Lord Baldwin addressed 'Dear Cossack', quantity of calling cards for Mr. & Mrs. Stanley Baldwin, unused dancing invitations and quantity of various military medals. Est. £200-300
Viewing for this Auction is on Friday 23rd March and is highly recommended.
This significant collection follows on from successful previous auctions for medals and military at Unique Auctions. All Unique Auctions sales are online, attracting a worldwide audience,  and we are able to achieve excellent prices including over £2,200 for a recent set of Lincolnshire Yeomanry Territorial Force WWI Medals.
About Unique Auctions
Unique Auctions are one of Lincolnshire's leading Auction Houses offering a range of regular Antique & Collectors sales. Unique Auctions handle every aspect of probate, house, agricultural, commercial and industrial clearances. For further information call UK +44 (0) 1522 690444 or visit http://www.unique-auctions.com
We are now accepting medals and militaria collections etc for all future auctions. We also value medals and militaria etc.
Items Always Accepted For All Future Sales. Complete House Clearances Handled Daily.
If you would like further information, please email us at office@unique-auctions.com
or telephone our office on 01522 690444.