Unique Auctions Fine Antiques & Collectors Sale on the 28th July 9am (GMT) features 100 Lots of Asian and Middle Eastern Art and Antiquities. The bulk of items are from collector and items range from the 4th Century to the 19th Century, and include Chinese, Persian, Annamese, Japanese, and Turkish items.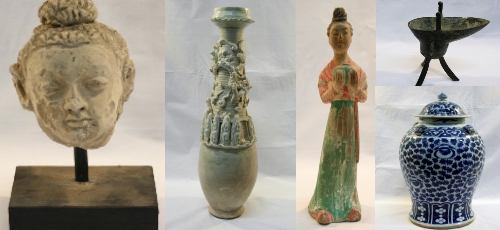 Items include
10th Century Tang Dynasty Funeral Urn
17th Century Carved Wooden Attendant Figure Ming Dynasty
4th Century Ghandara Stucco Head
18th Century Qianlong Burial Tablet
17th Century Bronze Chinese Buddha
A Bronze Tripod Ritual Wine Vessel, Jue
Many 18th and 19th C Chinese Vases, Dishes, Bowl & Jars
Many Items of Jade
Burmese Silver, Chinese Silver
Tribal Bands
"We are delighted to present this fine collection of Asian and Middle Eastern art and artifacts. We have established a reputation for excellent prices and trust, and we are receiving many more estates and collections than ever before. We will be expanding our Asian Art department and expect to have a large auction at the start of 2104."
A selection of the lots are pictured below:
Fine Antiques & Collectors Sale Sunday 28th July
The Sunday 28th July Fine Antiques & Collectors Sale starts at 9am. Viewing of items is from 7am on Friday 26th July and the morning of the sale. The sale will also be available online for bidding through the Sale Room. Click here to register.
About Unique Auctions
Unique Auctions are one of Lincolnshire's leading Auction Houses offering a range of regular Antique & Collectors sales. Unique Auctions handle every aspect of probate, house, agricultural, commercial and industrial clearances.
For further information call UK +44 (0) 1522 690444 or visit http://www.unique-auctions.com
We are now accepting all types of Asian Art, Asian Antiquities, Asian Artifacts, Chinese Art, Chinese Antiquities, Chinese Artifacts  for all future auctions.