NOT TO BE MISSED
A 50 years single private collection of coins and related coin collectables including Gold, Silver, Cabinets, bronze coinage, Sovereigns, Money boxes etc. is going under the hammer at Unique Auctions, Teal Park, Lincoln on Saturday 26th August. Approximately 3.5 Tonne's of coins.
In our auction on Saturday 26th August we have probably one of the biggest collection of coins ever to go under the hammer in Lincolnshire. This immense private collection of coins and related items will include: Gold Sovereigns; Half Sovereigns; Gold Spade Guinea; other gold coins include 1750 7 Guilder, 1930 Swiss 20 Franc; 1877 Dutch 10 Guilder etc; dozens of Silver Mint Proof sets, Crowns and Singles; Antiquarian and hammered coins; many pre-1947 Silver coins; Rare GB and Foreign coins; Collectable Fake and Misstrikes; approximately 60/80 bags of Bullion coins including Victorian pennies up to Elizabeth II pennies; Bags of 3d/6d coins, florins etc; many lots of rare and collectables money/bank, savings boxes and rare vintage papier mache charity money boxes; rare gaming tokens; cabinets, coin cabinets, coin drawers; a very rare vintage Casino sorter; a vintage Triumph patent Quick Change Till; many lots of GB and World bank notes.
PLEASE NOTE
FOR SECURITY REASONS, THE COIN AUCTION CAN ONLY BE VIEWED ON
FRIDAY 25th AUGUST
9am UNTIL 6pm
AND AT NO OTHER TIME.
                   PLEASE NOTE THAT AT 6pm PROMPT
VIEWING WILL END AND THE SALEROOM WILL BE CLOSED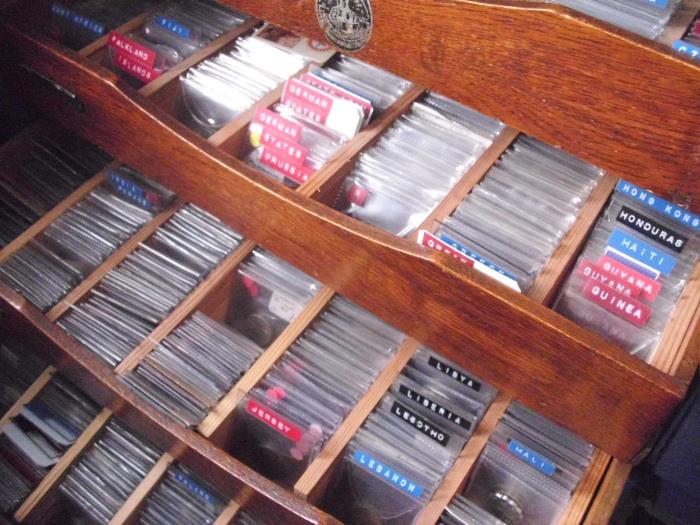 Approximately 127 bags of coins, each weighing around 10/11 kg's containing: 1d coins Victoria to Eliz II, mixed 1d, mixed 1/2d
3d brass, 6d, 1/-, 2/- and 2/6 copper nickel
127 kg of mixed world coins
Many old GB 10/-, £1, £5 notes including a 'White Fiver'
Approximately 250 old collectable 'Home savings banks' and money boxes including some very rare examples and scarce local boxes
Many GB, Commonwealth and World silver proof coins, individuals and sets
A very large collection of 19th Century Silver Crowns, Half Crowns, Florins, Shillings, Sixpences to pennies in silver etc.
Antiquarian hammered coins, farthings halves and thirds, trench art coins, misstrike 6d and other sought after coin oddities
Very rare 1855 Crimean War medal sardinian issue
Interesting collection of milk bottle tops
A large box of tokens plus many tokens in folders, rare token key rings and museum penny strikes
A large quantity of world silver coins including many proof coins
A very rare working vintage patent triump quick change till (ex casino)
A very rare vintage casino 'coin sorter'
Several custom coin cabinets, table top and large free standing cabinets
Professional coin scales, private and commercial models
19th and 20th Century sovereigns and half sovereigns, gold spade guinea