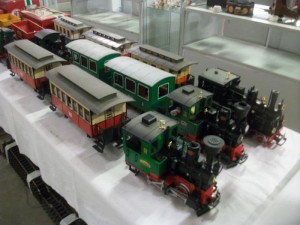 For train enthusiasts the Unique Auctions 26th May Fine Antiques & Collectors auction will be of great interest as it includes A Lehmann LGB 'G' Guage Garden Railway Layout.
The layout includes 7 Locos, inc a Boxed Track Cleaner, 11 coaches and rolling stock, 8 buildings including Toilet Block, Drug Store etc, approx 85 ft of track including 8 L + R electric points, also included are power transformers etc.
The layout was recently dismantled and were in working order prior to dismantling.
For more information on this Lehmann LGB 'G' Gauge Garden Railway Layout please call Unique Auctions on 01522 690444.
A selection of images from the Lehmann LGB 'G' Gauge Garden Railway Layout are pictured below.
Fine Antiques & Collectors Sale Sunday 26th May
The Sunday 26th May Fine Antiques & Collectors Sale starts at 9am. Viewing of items is from 8am-6pm on Friday 24th May and the morning of the sale from 7am. The sale will also be available online for bidding through the Sale Room. Click here to register.
About Unique Auctions
Unique Auctions are one of Lincolnshire's leading Auction Houses offering a range of regular Antique & Collectors sales. Unique Auctions handle every aspect of probate, house, agricultural, commercial and industrial clearances.
For further information call UK +44 (0) 1522 690444 or visit http://www.unique-auctions.com
We are now accepting Railwayana, Railway Postcards, Railway Signs, Railway Models etc and other items for all future auctions.